Do you need a motorcycle license or learner's permit? Uncertain about where to begin? You've arrived at the proper location. We'll go over all the fundamentals so you can start riding a bike in no time.
Every biker has a starting point. Fortunately for you, even if you've never ridden a motorcycle before, getting a motorcycle permit or license and starting to ride isn't difficult. Basic preparation, a few essential items of safety equipment, an open mind, and some common sense are all you need to succeed.
Note: No matter where you're from, these basic motorcycle riding tips can help you stay safe on the road. Whether you're new to motorcycle riding or have years of experience, it's always important to brush up on your safety skills. If you don't reside in the US, your motorcycle license may have a tiered structure with increasing levels of testing and restrictions.
Your first step should be a visit to the motorcycle section of your Department of Motor Vehicles (DMV) website because it is beyond the scope of this guide to discuss unique laws in every state. This article provides general guidance and best practices for obtaining a permit or license, but you should always refer to your state's unique laws.
What if I have no motorcycle riding experience at all?
Don't worry; before exams, each state provides rider education. These courses start from scratch and evolve by introducing new knowledge and abilities. If you are able to ride a bicycle, you are probably ready to begin.
What if I'm already a proficient rider? Can I just take my test without taking the safety course?
Sure. If you're prepared, you can arrange a test to prove your proficiency and obtain a license. Before taking the skills test, you might need to pass the written exam for the permit.
Do I need a license or a learner's permit to operate a motorcycle on public streets?
Legally, you must, but if you stay off-road, there are several options to ride without a license. Dirt bikes are excellent learning vehicles. In fact, a huge number of motorcycle riders learn to ride away from paved surfaces. What you can discover with a day, a small dirt bike, and a large field or trail will amaze you.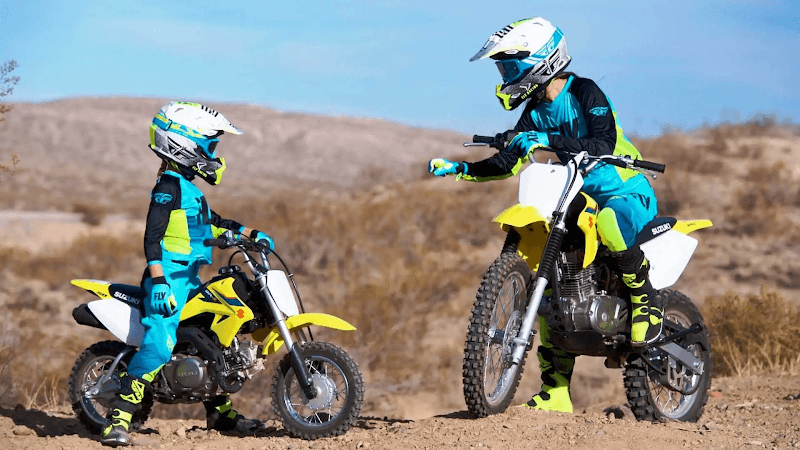 No license is necessary to learn off-road driving.
Another option for riding without a permit or license is at your local motorcycle track, but you'll need to be an expert rider first. Most courses allow entry without a motorcycle endorsement. If you're unsure, phone the track's organizers to confirm that you're okay.
It should be noted that certain states just require a basic driver's license to operate small bikes and scooters under 50 cc on the road. No motorcycle license or permit is required! Others call for a motorcycle license with restrictions.
How do I obtain a motorcycle license?
A permit is a constrained kind of motorcycle endorsement issued by the DMV in your state. (This is quite comparable to having a permit before receiving your standard driver's license.) After studying the driving laws in your state and passing a brief written exam, you can legally ride a motorcycle on public streets with few restrictions. Driver's permit restrictions vary from state to state, but they may prevent you from carrying passengers, riding at night, or using freeways. The typical minimum age for obtaining a permit is 15 and a half or 16 years old. Riders who are younger may need to ride with a licensed rider for a set number of hours before they can qualify for their own license.
How can I apply for a motorcycle license?
Having a motorcycle license gives you unlimited riding rights. There are two typical routes for obtaining a license. You can first arrange for a skills exam through the DMV in your state. To get the evaluator's approval, you must ride a brief course. Make sure you can control your motorcycle with confidence since they need to see that you can do so safely. If you'd like, you should be able to obtain private training sessions to aid in your state test preparation. This can be a challenging alternative if you don't own a motorcycle because you'll need one with current registration, insurance, and inspection (if applicable) to pass a state exam.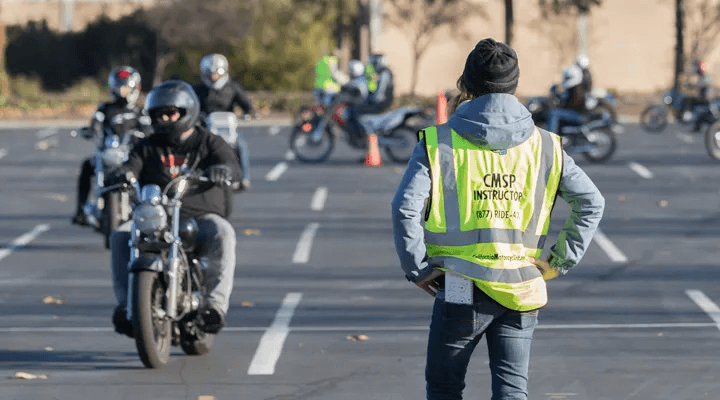 The alternative is to obtain your license by completing a recognized motorcycle safety course. The prerequisite for the license test is waived upon completion. These courses are especially intriguing to non-motorcyclists because you can ride learner-friendly bikes during the classes. After a few sessions in the classroom, you'll go outside the range for practical instruction.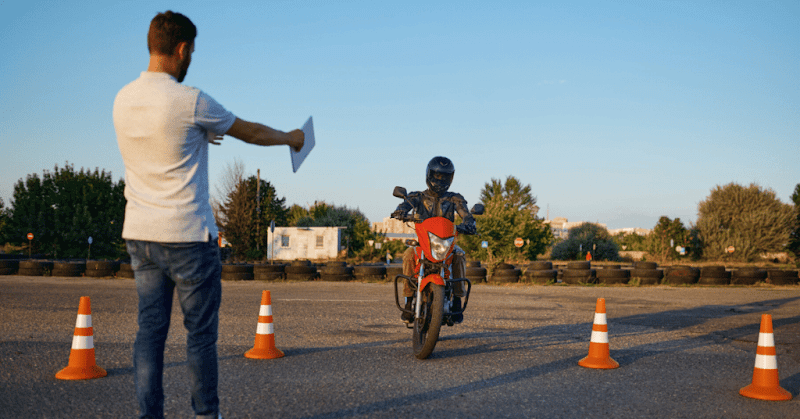 Coaches use a training range, painted lines, and numerous cones to walk pupils through the fundamentals of riding.
Coaches advise pupils, address their concerns, and evaluate their technique. If you successfully finish a safety course, several insurance providers will offer you lower rates. When signing up, though, be prepared. These programs can be quite expensive, and when the weather is great, they tend to fill up quickly. Register for a course on the website of your DMV.
I have my license! How do I go about getting my license?
This is a typical query from beginner motorcyclists. Depending on the licensing route you take, you can accomplish different things with your permit. Focus on obtaining the necessary safety equipment and signing up for a course if you're taking a state-approved course to obtain your license. Once your session begins, you may focus on learning to bike.
Anytime a rider with a permit takes to the road, they should always be wearing safety gear. Start with motorcycle helmets that actually fit and have DOT approval. You should also wear clothing that completely covers your arms and legs, closed-toe shoes that cover your ankles, thick gloves, and eye protection. You'll need similar equipment for a safety course, anyway.. For additional safety, wear a motorcycle jacket and riding pants.
You need a motorcycle and a place to ride it once you get your permission and the essential equipment. If you're having trouble picking up a bike right now, don't worry. Enrol in a course that offers bikes as part of the lesson, and they'll handle the rest. If you do have access to a motorcycle, attempt to begin your initial practice sessions in a space that is open and free of traffic, such as a deserted parking lot. If you can, bring cones and a knowledgeable friend with you. Try some quick street rides once you've mastered the fundamentals of riding to hone your abilities and confidence. Ride at your own pace at all times.
How much does it cost to get a motorcycle license?
The response differs depending on the state. Smaller testing fees may apply for your permit and license, and an additional price of a few dollars may apply to add a motorcycle endorsement to your current license card. Free to several hundred dollars can be spent on safety courses.
Tips, techniques, and recommendations for obtaining your license and permit
Get a copy of the motorcycle manual for your state and read it cover to cover before applying for your permit. Read it once more. Is there a sample test there? They'll ask you identical questions on your actual test, so you'll have it memorized in no time. You'll receive some sort of permit once you pass. Keep it together! Every time you ride, you must keep it with you, and you'll probably need to bring it with you to your safety training or license exam.
The assessments emphasize control at relatively modest speeds.
It truly is wise to ask other area riders what to expect when it comes to licensing exams through your DMV. Most tests favor smaller motorcycles. Arrive on a bike you are familiar with, or at the very least, one you can control.
The safety course route involves much more instruction and note-taking. Every aspect of basic motorcycle operation, including shifting, braking, turning, and accelerating, is covered in these lessons.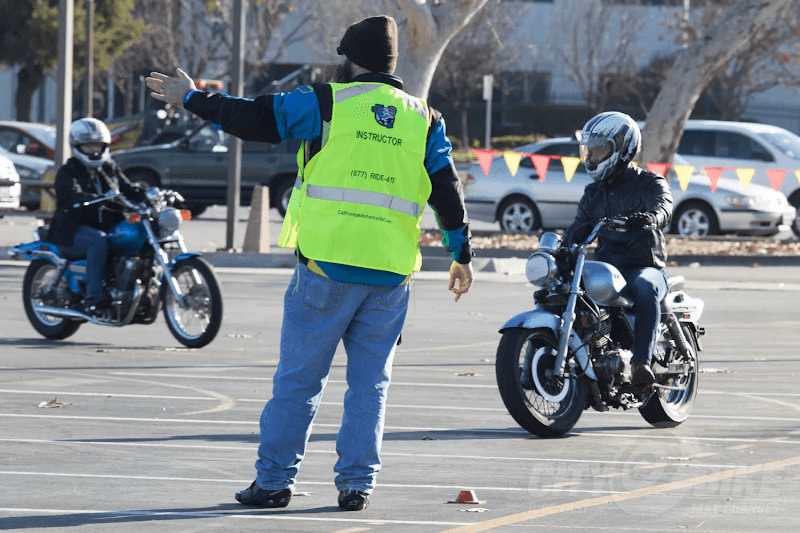 In the background, observe the compact training motorcycles. They are large machines, but they are entirely submissive. Some newcomers visit the showroom and purchase the same model they used to get started.
Even if you disagree with the instructor's justification if you already have riding expertise and are only taking the course to become street-legal, be open to improving your riding habits. The state-approved requirements cannot be waived in your favor. You are on their territory, and whether you like it or not, you must get their approval. No matter how many years or miles you've logged, it doesn't matter.
After I obtain my motorcycle license, what should I do?
If you don't already have a bike, start looking for one, borrow a friend's, or decide never to touch a motorcycle again. Check out the beginner's rider page on Aliwheels if you decide to keep riding. It covers everything, including how to pick a motorcycle, what equipment you'll need, as well as fundamental maintenance and mechanical know-how. It's fantastic that you now own responsibility for your riding experience. Continue to study, train, and ride. You will continue to benefit from motorcycle riding.